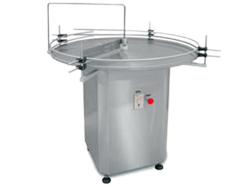 Description
Stainless steel scrambler & un scrambler, which is familiar as turn table. This is built on SS square frame, solid guide rail & reduction gear box for jerk less & noiseless performance. Turntable is useful to ensure total synchronization, uniform flow of container and to take a turn at 90 degree to suit different machine and purpose in automatic liquid line.

Operation
Container inputs in turn table by manually or automatic will rotate on disk of turn table and exit through outlet, during rotation of container will guided by a SS strip, which will guide the container towards outlet path.

Salient Features

Construction AISI S.S. 304 quality.


Three step pulley for different speed.


Special self-aligning bearings ensure smooth and trouble free operation.


Suitable for different type of container.


S.S. elegantly matt finished body.


Reduction gears ensure jerk free and noiseless operation.


Matt Finished body.

Optional

Castor Wheel with lock


A/c Frequency Drive


Acrylic Cover


Tray for loading or unloading of container.